Weekly Mélange - SoCal Trip, Glasses + Acupuncturea
Since all my activity is happening primarily on instagram these days, my poor little blog keeps getting ignored! I promise I'm going to make an effort to do more regular posts even if it's in a mish mash form like this.
What's happening
Next week is going to be an exciting one as I head to southern California to the ShiftCon Expo, then, Saturday, 2/3, I will be on a blogger panel at The Detox Market for a Q&A with YOU! There's still a few spots available if you'll be in the Los Angeles area - check out the event here! Come say hello!
Oh, and I got glasses! I've had astigmatism and am far sighted in one eye, so finally I'm actually SEEING again. Self-care, man, it's important! Speaking of...
Many of you know I've had a ganglion cyst on my wrist since Sawyer was born. I didn't know what it was until recently, but it's been pushing up against a nerve and been causing pain for nearly 5 years. After trying a few tricks to avoid surgery, I finally gave acupuncture a whoorl which immediately took the pain from an 8 to a 4.
She worked on the distal points in my ear and foot and I'm simply fascinated/blown away/tripped out at how effective it has been. I haven't even been able to dump a pot of water out into the sink in years because my wrist wouldn't turn that far, and now look at me. Dumping all the water, all. by. my. self. I feel like a whole new woman.
My acupuncturist (seems bizarre to say I have one, but I do!) shared this chart with me, and yeah it's still way over my head and I'll probably never understand it, but she showed me how each of these points on the ear can become inflamed/painful when the correlating part of the body is flared up. She basically told me if you can massage your ears (every part of your ear) every day for 10 minutes or so, it should stimulate or even drastically help your day-to-day life. I had a reader just message me yesterday that her headache went away as soon as she massaged her ears. #worthashot
I've placed ear seeds on my areas of concern, which essentially attach on your ear like a tiny bandaid that you press to stimulate the area in between acupuncture sessions. Some people use them instead of acupuncture.
Some stills from my instagram stories during my first acupuncture and cupping session! (I'll report back on that one)
Beauty & Skincare
Keep an eye out next week for new Beauty Hero launches - plural. Yeah, it's gonna be a good month, I think most of you will be excited!

The Detox Market is offering free shipping on all orders using code SHIPFREE through 1/27. Shop here!
What I'm Reading
Malcom Gladwell's David & Goliath: Three thousand years ago on a battlefield in ancient Palestine, a shepherd boy felled a mighty warrior with nothing more than a pebble and a sling-and ever since, the names of David and Goliath have stood for battles between underdogs and giants. David's victory was improbable and miraculous. He shouldn't have won. Or should he? In DAVID AND GOLIATH, Malcolm Gladwell challenges how we think about obstacles and disadvantages, offering a new interpretation of what it means to be discriminated against, suffer from a disability, lose a parent, attend a mediocre school, or endure any number of other apparent setbacks.

This book has been incredibly eye opening. I prefer to listen on audible so I can drive, cook and clean at the same time ;) - if you've never used audible, you can get a free 30 day trial with 2 free books!

Also working my way through Malcom's podcast Revisionist's History: A journey through the overlooked and the misunderstood. Every episode re-examines something from the past—an event, a person, an idea, even a song—and asks whether we got it right the first time. From Panoply Media. Because sometimes the past deserves a second chance. (These episodes are SO good!)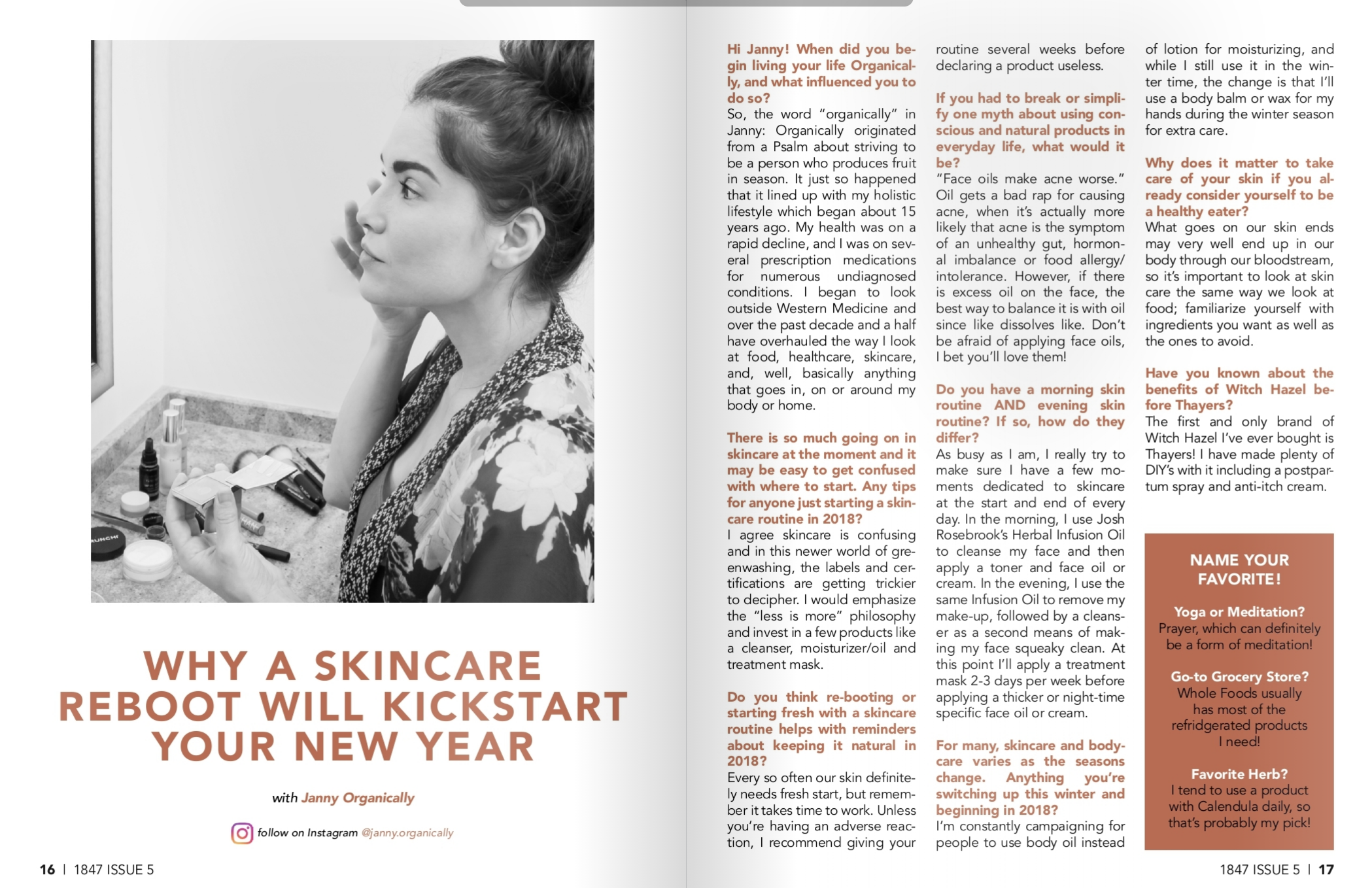 I'm honored to be featured in the latest edition of Thayers magazine called 1847. I mean, this was the first and only witch hazel brand I've ever bought, so I'm flattered! See the full article here.